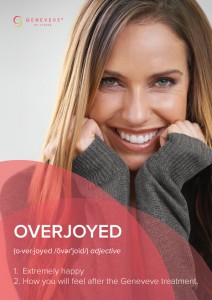 I wanted to educate all of my female patients about a simple, 30-minute, pain-free solution that can physically and emotionally change your life for the better. Geneveve is a non-invasive Vaginal Rejuvenation procedure that is a one-session treatment with no downtime.
You may be asking yourself, why is a Facial Plastic Surgeon offering Vaginal Rejuvenation? The answer to that is simple, (while I am not directly involved in performing the treatments) vaginal laxity affects over 50% of women and is the cause of things like urinary incontinence (leakage when you laugh, cough, sneeze or workout), dryness or pain with intercourse, reduced arousal, reduced sensation during intercourse, and inability to orgasm anymore. Vaginal laxity, whether it be after childbirth or just from aging is an issue that women are often not talking about.
My practice is comprised of over 90% women and some of our nurses and physician assistant have previously worked in women's health. I chose to specialize in Facial Plastic Surgery to help women look and feel their best. Vaginal Rejuvenation is about women's health and wellness of a woman's vagina.
Patients have told us that we helped save their marriage because prior to having Geneveve performed, intercourse was so painful that they rarely or never had it. We have patients that were runners or yoga enthusiasts and stopped working out because before Geneveve they would leak urine when they worked out. We have women that used to wear pads every day and after Geneveve that is no longer their life.
If you are bothered by any of these symptoms, you are not alone. We invite you to a
complimentary consultation with one of our female providers.