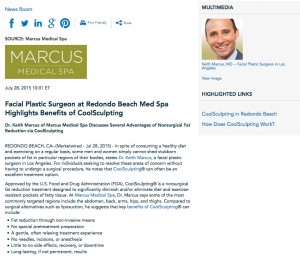 Dr. Keith Marcus of Marcus Medical Spa discusses several advantages of nonsurgical fat reduction via CoolSculpting.
Redondo Beach, CA — In spite of consuming a healthy diet and exercising on a regular basis, some men and women simply cannot shed stubborn pockets of fat in
particular regions of their bodies, states Dr. Keith Marcus, a facial plastic surgeon in
Los Angeles. For individuals seeking to resolve these areas of concern without having to undergo a surgical procedure, he notes that CoolSculpting® can often be an excellent treatment option.
Approved by the U.S. Food and Drug Administration (FDA), CoolSculpting® is a nonsurgical fat reduction treatment designed to significantly
diminish diet and exercise-resistant pockets of fatty tissue. At Marcus Medical Spa, Dr.
Marcus says some of the most commonly targeted regions include the abdomen, back, arms, hips, and thighs. Compared to surgical alternatives such as
liposuction, he suggests that key benefits ofCoolSculpting® can include:
Fat reduction through non-invasive means
No special pretreatment preparation
A gentle, often relaxing treatment experience
No needles, incisions, or anesthesia
Little to no side effects, recovery, or downtime
Long-lasting, if not permanent, results
In regard to how CoolSculpting® works, Dr. Marcus explains that
the procedure employs a unique scientific process known as "cryolipolysis," which is essentially the cold-related destruction of fat cells. During treatment,
he says the CoolSculpting® device uses controlled cooling to take the temperature of fat cells down to a certain degree at which only they are
affected. Once this temperature is reached, he continues, the targeted cells begin to freeze and die, eventually exiting the body through natural processes
over the course of about two to four months.
Though CoolSculpting® can be an excellent fat reduction option for many individuals, Dr. Marcus notes that patients should be at or very near
their desired weight prior to treatment, as this is not considered a weight loss procedure. Additionally, he states that men and women interested in
non-surgical fat removal should consult with a qualified and experienced physician or specialist to not only ensure CoolSculpting® is right for
them, but also to make certain they receive the safest, most effective care and attention throughout the treatment process.
About Keith Marcus, MD
After obtaining his undergraduate degree with honors from the University of California, Berkeley, Dr. Marcus went on to earn his medical degree from the USC Keck School of Medicine.
Subsequently, he completed a five-year Otolaryngology-Head and Neck Surgery residency at the University of Michigan, followed by one of the country's most
prestigious Facial Plastic and Reconstructive Surgery fellowships.
Dr. Marcus excelled in CoolSculpting® training and CoolSculpting® University under the monitoring, quality assurance, and validation of
ZELTIQ® – the makers of CoolSculpting®. With this certification, Marcus Medical Spa is deemed a premier office at which patients are
treated by only the most experienced CoolSculpting® professionals.
For more information about Dr. Marcus and CoolSculpting®, visit marcusmedicalspa.com and facebook.com/MarcusMedicalSpa.
Contact:
Marcus Medical Spa
1815 Via El Prado #102
Redondo Beach, CA 90277
(310) 316-1400
Rosemont Media
(858) 200-0044
www.rosemontmedia.com